All Posts
Eastern & Oriental Express: Lovely Train, Gracious Staff
"Tap-tap-tap."
There's a soft knocking at my cabin door.
It's Sarawut, my steward on the Eastern & Oriental Express luxury train, gently awakening my husband, Shawn, and me.
He quickly begins making up our cabin.
"How long have you been working on the train?" I ask him, as he converts our snug bedroom into cozy, daytime seating for two.
Since it began running, in 1993, he tells me. Twenty-six years.
As Sarawut lays out our continental breakfast — coffee, pineapple juice, bananas, cereal, English muffins with egg and bread basket — he tells me that almost half of his colleagues have also been with the train since the beginning.
After my recent journey, I can see why. Everything about this gentle train is pure heaven.
Its standard Bangkok-Singapore itinerary offers a variety of off-train tours. But it's the train itself — and its staff — that will lure me back.
One morning last December, my husband Shawn and I arrive in Bangkok's Hua Lamphong station, when we spot Thai children on one platform, outfitted in colorful costumes and masks, performing a traditional dance.
Typical Belmond, I think. They know how to get a party started.
It's the company's characteristic grand welcome for guests boarding its worldwide portfolio of luxury trains, which includes the world-famous Venice Simplon-Orient-Express.
But in this case,  it's the Southeast Asian version: the Eastern & Oriental Express, bound for Singapore.
Our steward, the aforementioned Sarawut, shows us to our cabin with welcome drinks.
He points out two attendant call buttons in our room and insists we ring him if we need anything.
Later, we dress for dinner and join our group in the dining car, Malaya.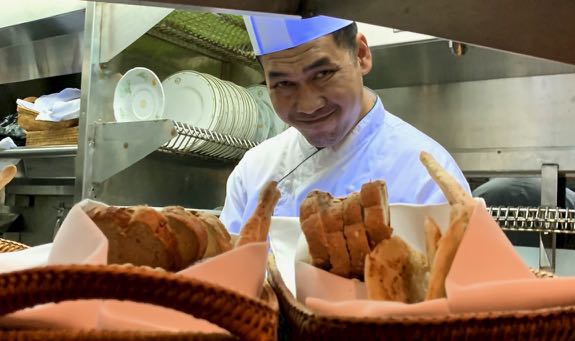 Dinner service is flawless. The waiters present the dishes beautifully and quickly clear finished plates.
Our four-course meal begins with a memorable "Tom Yum Cappuccino", a delicious foamed version of the popular Thai soup, served in an espresso cup. It's delectably creamy, and I find myself wishing it was a full bowl…but there are still three courses to go.
Next comes a dish featuring more local flavors: rice noodle with coconut minced pork, prawn and peanut with Nam Jin sauce and a crab, mango and cucumber maki (sushi).
I opt for the glazed duck breast with wild mushroom and charred cabbage for my main course – cooked to perfection.
Dessert is a chocolate mousse with ice cream and caramel sauce; petite fours follow but go untouched because we are full to bursting.
After dinner we repair to the piano bar car for entertainment: first, Thai dancers perform, accompanied by a drum and khene (a mouth organ with bamboo pipes).
Later, as the E & O chugs into the steamy Thai night, the bar car morphs into something out of a Joseph Conrad yarn.
Pianist Peter plays and sings, as he gleefully implores guests to join in. Meanwhile, the attentive and friendly staff keep us well supplied with drinks and spirits (included in our fare; premium drinks are additional).
It's been a great night, but now to bed.
Returning to our cabin, our turned-down twin beds await, robes and slippers neatly laid out. The train is stationary the first night, so sleeping is easy.
(On the remaining two evenings, the train is moving. I had no trouble sleeping either night, but some report problems on the second night, as the tracks are rough in southern Thailand.)
Our State cabin is roomy, boasting a couch, comfy fixed chair, small collapsible table, and desk chair. The couch faces two large windows for watching the passing scenery; fresh yellow orchids add a pop of color. We have a private bathroom with small cubicle shower, sink and toilet.
Our cabin's intricate wood marquetry—cherry wood and elm burr in a criss-cross pattern—is beautiful. And I soon realize the decor, in varying patterns, is consistent throughout the train, all perfectly polished.
And so we lazily spend the next few days: private, continental breakfast and afternoon tea in our cabin, multi-course lunch and dinner in the dining cars, entertainment in the bar cars. We could get used to this.
As superb staff members meticulously tend to our every need, we enjoy the ever-changing scenery: the small villages and occasional temples in Thailand giving way to the hills and jungles of Malaysia, before reaching the modern metropolis of Singapore.
Off-train excursions are brief but impactful.
Day 2 — The E & O stops near the River Kwai Bridge, infamous for its bloody, WWII history. Guests have three options for excursions:
a leisurely cruise down the river, with commentary on the history and building of the bridge, ending with a visit to the bridge museum and war cemetery;
a bike ride through a nearby village, stopping at a local farm for refreshments;
Or a visit to a local wet market, followed by a Thai cooking class on a raft cruising along the River Kwai.
We choose the first option, which is quite moving, if somber.
Day 3 — The train stops in Padang Rengas in rural Malaysia, with a choice of two excursions:
a tour of a traditional village to gain insight into the daily lives of a beekeeper, rubber plantation worker, knife maker, and finally to a local home to explore a spice garden;
for those who want an active afternoon, a trek to the top of a hill for panoramic views, while identifying local flora and fauna en route.
We loved the village tour — especially the visit with the spice gardener, a gracious host who was happy to share his home and garden.
The excursions were great, if only because they allowed us to get off and stretch our legs. But for us, the E & O itself was the star of this show.
The train shows no sign of wear – it's as if it could have begun service yesterday, rather than 26 years ago.
It accommodates up to 82 guests, although the average number is about 60, I'm told. Public spaces, the heart of any luxury train worth its salt, abound.
The E & O boasts a dining car, saloon car (includes reading room, dining area and boutique), piano bar car and observation car with large, rear open windows for wind-in-the-face viewing.
The rear observation car is a bit of a hike for those in the front of the long train. But it's worth it.
The large, open-air, verandah-style observation deck allows unparalleled views of this beautiful world, Singapore Sling (or other favorite cocktail) in hand.
And there are more on-train pleasures:
shopping at the on-board boutique (I recommend an exclusive Jim Thompson scarf);
peering into your future, courtesy of a fortune-teller offering complimentary palm-readings;
a perfume presentation;
at additional (but reasonable) cost, a foot massage.
I sprung for that foot massage. And I'm so glad I did.
As I relax and enjoy my lovely massage, I admire a beautiful silk tapestry in the saloon car. It depicts a roaring tiger, the symbol of the Eastern & Oriental Express.
Indeed, I think to myself: in the increasingly crowded "jungle" of  IRT's World's Top 25 Luxury Trains, the E & O is one of the mightiest.
*****
Angela Walker is Vice President, Operations and senior luxury travel advisor for The Society of International Railway Travelers. Ms. Walker's has been with IRT since 1998 and has traveled on most of the World's Top 25 Trains.