All Posts
Extraordinary Times Call for Simple, but Effective, Efforts
For the first time in 37 years — since we started The Society of International Railway Travelers (IRT) in August, 1983 — we will NOT talk about the joys of luxury train travel worldwide.
Why?
The U.S. presidential election is Tuesday. New Covid-19 cases are coming at us literally every second. Travel is shutting down again all over the world.
We are confident the joys of exceptional rail travel remain in our future, but for the moment — especially if you're over the age of 60 — you're pretty much stuck inside.
What to do?
Here at IRT, we believe that job one is keeping our mental health.
To do that, we promote neuroplasticity — the ability of the brain to learn new things, focus on the positive, to avoid depression and anxiety and increase creativity and problem-solving.
By focusing on self-care, we're better able to withstand stress. And that means we're better able to take care of you, our guests.
How do we do that?
Keep moving. We walk or run — socially distanced and masked, of course — whenever we can: in our neighborhoods, in our many local parks and botanical gardens and at area nature preserves.
Play with pets: Rachel and Nate have a dog and cat, Nora has two cats and Angela her loyal dog Lucy.
Admire babies: Owen, Rachel and I make frequent WhatsApp video/audio calls to our new grandson/nephew Mahdu, who lives in Delhi, India with our daughter Katy and son-in-law/brother-in-law Roshan. Angela admires her new nephew. Nothing like a baby to focus on the present — and future.
Household projects: Nora, Rachel and Nate spend time completing long-overdue jobs such as replacing car headlamps or building planting beds and shelves and putting up a new greenhouse.
Gardening: Rachel has an extensive vegetable garden — ask her about her gigantic pumpkin, her amazing okra, plus myriad indoor plants.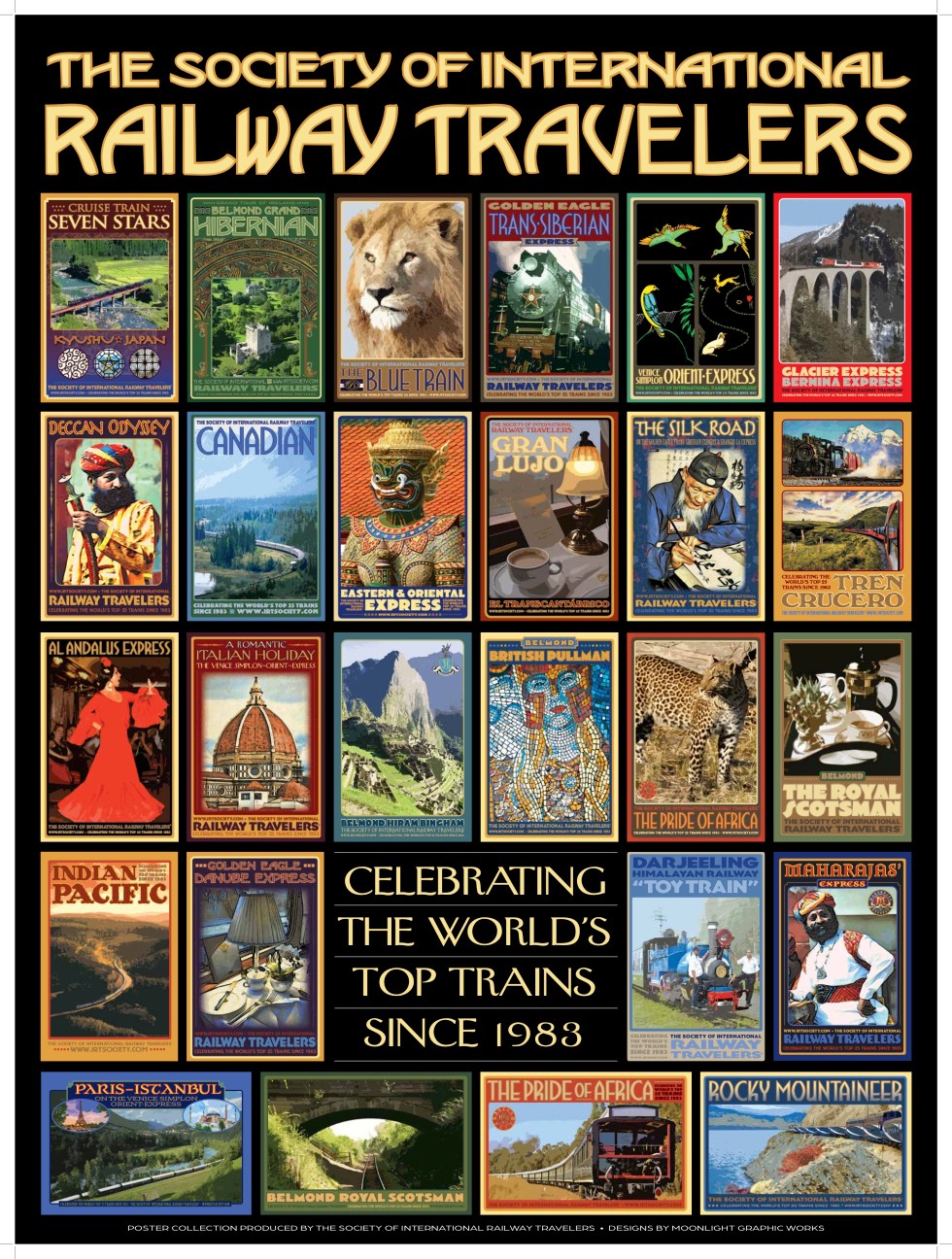 Jigsaw puzzles: Using IRT Art Director Steve Sebree's gorgeous designs, Owen has turned our World's Top 25 Trains travel posters into jigsaw puzzles. (Check out our collection here.) He also enjoys working them.
Growing and Arranging Flowers, Then Painting Water Colors of Them: I could do it all day! I have loved gardening since I was tiny and have never stopped. And I adore arranging flowers.
My Covid sanity plan calls for ordering a weekly delivery of flowers from the farmer's market and a bunch of art supplies.
Then, I draw and paint these bouquets just about daily. I am no great artist nor do I pretend to be. But the joy of pushing around wet color on paper has a calming, grounding effect. Don't be surprised if I send you one!
Daily Gratitudes: Since May 24, I've made a habit of listing my five "daily gratitudes" in a beautiful journal from NYC's "Neue Gallerie." It's amazing how just writing down what I'm thankful for improves my mood. And plenty of times, I paint in the journal, just for added thankfulness.
Other ideas? I'd love to know what you're doing for your mental health, as you play it safe at home. Drop me an email at ehardy@irtsociety.com.
And about those luxury trains…They're ready and waiting, as magnificent as ever. We'll be back on track before you know it!
Our team and I, sometimes working at the office, sometimes at home, will be ready when you are — with amazing knowledge and training and sharp mental health — to serve you.
Eleanor Flagler Hardy is President and Co-Owner of The Society of International Railway Travelers. She was honored this year to be named Condé Nast Traveler magazine's World's Top Travel Specialist — for luxury trains, of course!
Check out our website at www.irtsociety.com; email us at tourdesk@irtsociety.com. And if you want to call us; 800-478-4881.