All Posts
JR Kyushu's Little 'Sweet Train' Big on Beauty, Fun, Good Taste
One of JR Kyushu's newest railway confections is the Aru Ressha,  or Sweet Train. It's one of a dozen special trains dreamed up by the creative minds of railway officials on Japan's southernmost island.
While on my quest to experience JR Kyushu's luxurious and wildly popular Seven Stars, I was hoping also to ride the Sweet Train — also a star in its own right. It's a post-tour option on our very popular "Seven Stars Over Japan" luxury tour.
Like its "big sister," the Sweet Train sells out months in advance.
Several weeks before my departure on Japan Air Line's Chicago-Tokyo flight, I received the email I'd been hoping for:
"Good news!" wrote Simon Metcalfe, director of international sales for JR Kyushu's Seven Stars train. "There's been a cancellation on the Sweet Train. You and I will be going from Sasebo to Nagasaki."
Several weeks later, Simon and I were standing on the Sasebo Station platform. The Sweet Train had arrived, and the place was bustling.
"We recommend doing the Sweet Train before the Seven Stars," Simon told me, as the Seven Stars' level of service and amenities are superior.
But as a visiting foreigner (and American, where rail service is sparse), I found every aspect of the Sweet Train beguiling.
For what it is — a little more than two-hour ride with light lunch and four courses of desserts as beautiful as they are tasty — the Sweet Train is a must-do option if you get anywhere near Kyushu. The train's design, food, service and scenery are superb.
And its history — which surprisingly involves the USA at the turn of the last century — is fascinating.
Anyone who's seen pictures of or been on the Seven Stars will immediately recognize the work of Sweet Train designer, Mr. Eiji Mitooka, who also designed the Seven Stars.
The Sweet Train reflects many Seven Stars elements: lighting and decor employing similar patterns (fabrics and wallpapers in rich hues, often with a nature theme); sumptuous woods and intricate details for those who take time to seek them out.
Rail enthusiasts, for example, must be sure to excuse themselves to wander back towards the lavatory. On the way, they'll discover a cabinet with several scale-model steam engines and tenders.
And even the bathroom itself is richly decorated and not to be missed.
The self-propelled Sweet Train comprises just two cars. Car No. 1 has a more traditional, open seating plan. Car No. 2, where Simon and I sat, consists of private "booths," accessible through sliding wooden doors.
Following a starter of orange juice and champagne, the fanciful parade of delicate food starts with a colorful box of meat, fish and vegetables, all sourced from Kyushu's finest providers.
Then come three sweets courses, made from a variety of seasonal fruits, followed by a delicacy called mignardises (tea cakes).
The menu is the brainchild of Mr. Yoshihiro Narisawa, who has a famous restaurant named Narisawa in Tokyo.
The service on the Sweet Train, meanwhile, is top-notch: friendly, knowledgeable and indefatigable. The Sweet Train staff knows how to put on a show.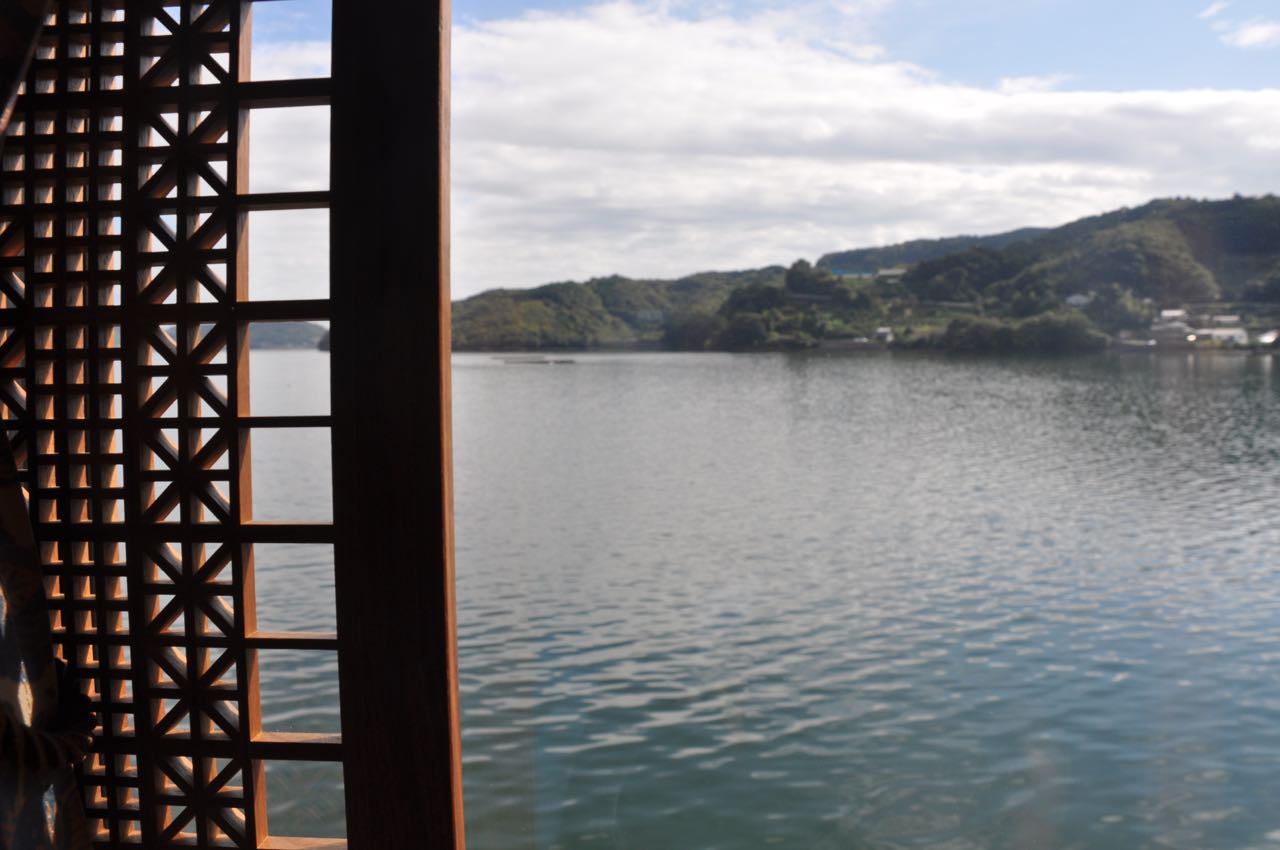 Also — remember to drag your senses away from the plush interiors, scrumptious food and smiling wait staff — and be sure to admire the view: It's as if it's custom-designed for this train. The train skirts the broad, blue Omura Bay — gorgeous.
(Note: My Sasebo-Nagasaki trip was in November — autumn in Kyushu. The Sweet Train summer route is between Oita and Hida.)
And what's the America / Sweet Train connection?
In 1907, Kyushu Railways ordered a set of "luxury rail cars" from the Philadelphia manufacturer, J.G. Brill Co.  However, nationalization of the railway sidelined the cars.
Now enter Japanese model railway enthusiast Nobutaro Hara, who remembered the cars from his youth and made a model of the Brill train. Eventually the little train wound up in his model railroad museum in Yokohama.
Sweet Train designer Mr. Mitooka based his modern design on Mr. Hara's model. And hence — this was probably the first time a full-sized train took inspiration from a model!
Want to ride the Sweet Train? We've reserved a few coveted places for participants to add the Sweet Train to our luxury Japan by Rail tour running Nov. 3-18 (which includes a four-day trip on the Seven Stars).
On last year's tour, everybody booked on our journey could not resist the sweets — on the Sweet Train.  And we could only grab 12 spots on the little train for this year's tour. (Yes, it's that popular.)
For a beautiful, full-color, 24-page brochure, please email your name and address to tourdesk@irtsociety.com. Or call (502) 897-1725 or (800) 478-4881.