All Posts
Luxury Suites Get Pre-Launch 'Debut' on VIA Rail's Canadian
Want to impress your partner on Valentine's — or any other — day? Book a new Prestige Class bedroom between Toronto and Vancouver on VIA Rail's famous Canadian, one of The Society of IRT's World's Top 25 Trains.
VIA recently introduced its up-market luxury service on a limited basis — something IRT Society travelers have wanted for years.
On my recent departure from Toronto, I found this beautiful, stainless steel sleeper waiting for me at the top of the escalator, coupled to a rebuilt round-end dome/observation car at the rear of the Canadian.
These cars soon will be joined by several more rebuilt sleepers, each with 6 spacious bedrooms. (The dome car also carries a handicapped room with entry directly off the vestibule).
There are many differences between Prestige Class and regular sleepers. Rooms are 50% bigger than a "one-up, one-down" cabin for two in the Sleeper Touring Class. And the window is 60% larger.
Each cabin includes a full, en suite bathroom. (For the first time on the Canadian, travelers will not have to share a shower with others.)
Not only is there a private shower, sink and toilet, there is a flat-screen TV (with a selection of videos) and a spacious L-shaped sofa that turns into a double bed (not a queen bed) at night.
There are also many extra services that are provided including:
Unlimited free drinks, including alcoholic drinks
24-hour butler service
First choice for meal sittings (if you prefer to eat early – or late – this is a great benefit, especially in the summer when the train is crowded.)
Separate greeting in the first-class lounge, and private escort to the train
Turn-down service
Free off-train tour in Winnipeg for westbound passengers (but only if the train's on time)
Fully stocked mini bar and fridge
Official rollout is planned for summer, but bookings already have started.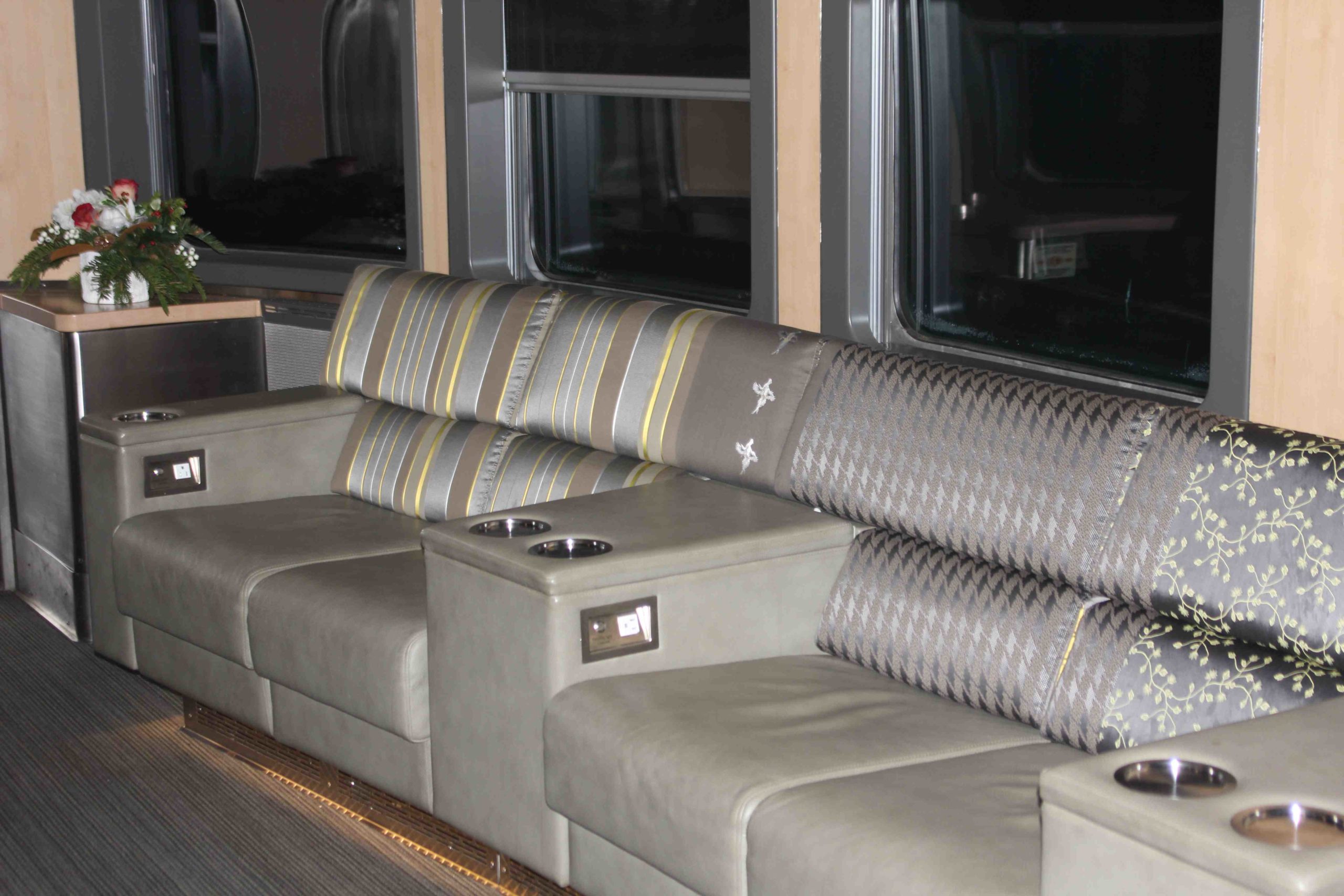 Prestige Class is great for a couple needing more space and who don't want to risk climbing into an upper bunk. The higher levels of service and privacy –especially the private, en suite bathroom – will appeal to IRT guests. The 24/7 room service sounds great, too.
Of course all this comes at a price: up to $2,000 more per cabin for the Prestige Class compared with the regular first class sleeper cabin.
Here are the six legs available for Prestige Class and the costs:
Toronto – Winnipeg, and vice versa: $4,104 CAD (About $3,228 US at today's exchange rate.)
Toronto – Jasper, and v.v.: $5,534 CAD (About $4,354 US at today's rate.)
Toronto – Vancouver, and v.v.: $7,394 CAD (About $5,817 US at today's rate.)
(All prices given here include taxes and are subject to change.)
Please note: the cost of Prestige Class has varied every time we've contacted VIA's reservations desk. Two reservation agents told us Prestige Class prices are fixed throughout the year, while another said they fluctuate depending on availability. So stay tuned!
For IRT travelers, the most popular way to ride the Canadian is on the Toronto-Jasper leg of our tour, Trans-Canada Rail Adventure: Toronto-Vancouver. (The Rocky Mountaineer covers the Banff-Vancouver leg; the Jasper-Banff leg is covered by a motorcoach on the Icefields Parkway.) For availability and pricing using Prestige Class on the Canadian on this and any other tour, please contact our office: call (800) 478-4881, (502) 897-1725, or email tourdesk@irtsociety.com.
Meanwhile, here's some not-so-good news about the Canadian: no longer can you book the Romance Package — two double cabins remade into a suite with a double bed. And the triple bedroom no longer is available.
Bad news also for solo travelers: if you want sole use of a Prestige Class cabin, your cost will be the same as for two people.
Nevertheless, Prestige Class is a big deal. The Canadian Pacific Railway introduced the Canadian in 1955, albeit over a mostly different routing. Prestige Class is the train's first major upgrade.
The service should be wildly popular. However the pricing works out, the busiest times for travel, such as summer, mean it's smart to book quickly. So contact IRT ASAP!