All Posts
Toasting a Classic: IRT Advisor Revisits the Belmond Royal Scotsman
Déjà vu washes over me as I walk into Edinburgh's Waverley Station, where I am immediately greeted by a kilted, bewhiskered bagpiper straight out of central casting.
He leads me and other passengers to a red carpet running beside the gleaming carriages of the Belmond Royal Scotsman, where train manager Fred Laseen welcomes each of us aboard.
Dining staff pour forth to welcome us — more déjà vu. I sip a glass of sparkling wine as we pull away from the station.
I think back to the last time I was aboard this train…
*
It's been 15 years since my 2004 journey on the Belmond Royal Scotsman — long before 'Belmond' was added to the name, actually.
And I am thrilled to report that the grand dame of the Scottish rails is more wonderful than ever.
What differences there are – the Bamford Haybarn Spa Car, added in 2017, reinvigorated interiors and textiles throughout – underscore the train's commitment to evolving alongside the wants of its guests. Other elements – food quality and service –  have stayed exactly the same, much to my delight.
*
A staff member shows me to my cabin.
It's a cozy affair, with twin beds configured in an "L" shape. It also sports a dressing table and stool with one locking drawer, full-length wardrobe, ceiling fan, and full bathroom with toilet, sink, shower, and towel warmer.
Other amenities include robes, slippers, and Bamford toiletries. The arched ceilings, marquetry, and paintings of kilted soldiers of yore add subtle touches of old-school luxury.
I could nap in my comfortable quarters all day, but the party's already started in the public cars.
*
I order a Lagavulin 16. It's an extra-peaty single-malt Scotch whisky, which I enjoy in the brisk Scottish air from the open platform on the back of the observation car. (All drinks are included, so I recommend you try a range of the more unusual whiskys and cocktails.)
Some time later, we are called to dinner. The dining car's tables gleam with stark white linen and fine china and crystal, all embellished with the stately Great Scottish & Western Railway Company logo.
Two of the four dinners on my journey are formal. Men are asked to wear dark suits at a minimum, although some opt for tuxedos or kilts, which can be rented locally in Edinburgh.  The splashes of tartan add greatly to the festive atmosphere. Women are asked to don cocktail attire.
The meals are exceptional. Carefully crafted by Glasgow native Mark Tamburrini, the train's head chef since 2010, they feature local Scottish ingredients.
Two of my favorites: Scottish salmon with dill, cucumber and cauliflower, with a perfect horseradish sauce; and roasted scallops with chorizo and sweetcorn croquettes in a corn purée.
Wines are carefully paired with each course. And even for those non-wine lovers, the enthusiastic descriptions provided by staff member Matej are impossible to resist.
For that matter, all of the 12 staff are exceedingly helpful and professional. Max, the head waiter, dutifully goes over the day's menu with each passenger to ensure there are no dietary issues.
(Those with dietary issues are painstakingly accommodated. The vegetarians, gluten-free, and dairy-free eaters among us are delivered a modified version of each dish).
Want to discover your favorite Scotch whisky and learn more about the country's local specialty? The indefatigable Jarryd will recommend one of the countless options on board.
He and Matej tend the bar until the last passenger retires (which is sometimes not until the wee hours of the morning). Then — somehow—they're up the next morning with coffee and tea to greet the earliest risers.
Last but not least is the Bamford Haybarn Spa Car, which I've been looking forward to for weeks. It made its debut two years ago.*
Stepping into the treatment room, I breathe in the lavender scent, and am transported into a cocoon of tranquility. Danielle, the on-board spa therapist, impressively manages the movement of the train while executing massages, facials, manicures and pedicures.  The gentle rocking further enhances the relaxing treatment.
The after-dinner entertainment in the observation car is another highlight. Colin and Iain, two cheeky chaps playing guitar and fiddle, encourage singalongs on our first night.
On our second night, Highlander Ray Owens brings to life the history of Scotland with his impressive storytelling.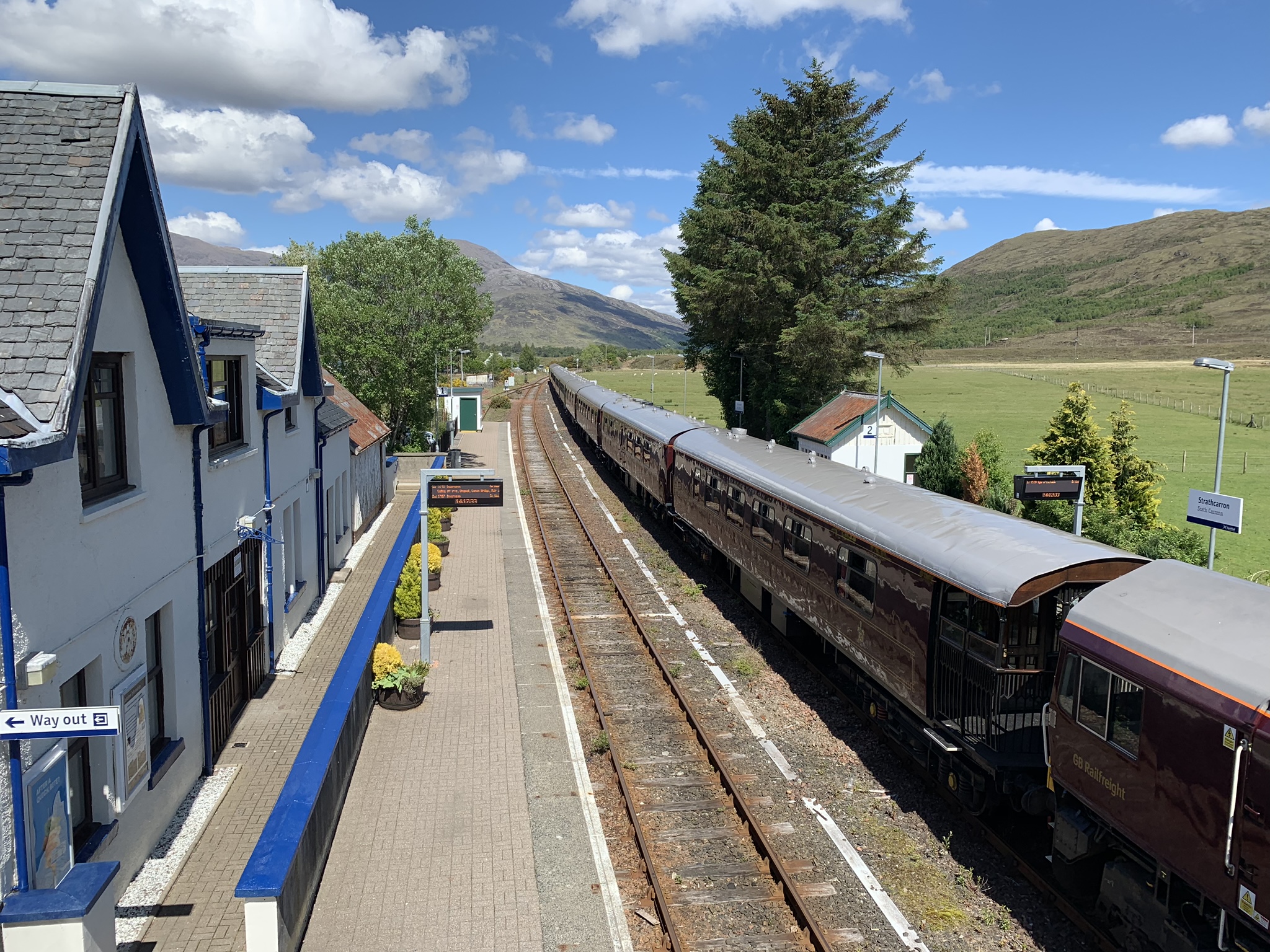 And on the final evening, Brian and Allison play the keyboard and violin before inviting guests onto the platform, where they teach us reels and jigs. It is a fitting, fun, and joyous end to our journey.
A few things have changed in the 15 years since my first trip – new faces, a spa car, updated finishings – but the high standards of food, service and comfort are the same.
Who knows? Maybe I'll be so lucky as to revisit the Belmond Royal Scotsman again in 2034.
*The Belmond Royal Scotsman's spa car makes it one of only three luxury trains in the world to boast similar spa cars. The other two are the Deccan Odyssey in India and the Belmond Andean Explorer in Peru.
Stay tuned for my next blog about off-train activities on the Belmond Royal Scotsman. Click here to subscribe to our blog.
Ready to book your own adventure on the Belmond Royal Scotsman?
Click here to complete our online booking form, or call us at (800) 478-4881 (+1 501-897-1725 if outside the US / Canada). Or e-mail us: tourdesk@irtsociety.com.
***************************************
Angela Walker is a 20-year veteran of The Society of International Railway Travelers. She is VP, Operations, for IRT, and a luxury travel advisor. She has been on most of our World's Top 25® Trains, some — like Belmond Royal Scotsman — more than once.