If the devil is in the details, then the Venice Simplon-Orient-Express' (VSOE) two new Suite carriages, joining the rake beginning June 2023, are truly bewitched.
Having heeded passengers' calls for a cabin choice that combines ensuite facilities, more room to spread out, and a (slightly) less feverish price point than the Grand Suite, Belmond announced eight new beautiful Suite cabins, now available for sale for all departures beginning in June 2023. Two former Cabin Suite cars have been transformed into the new Suite configuration, providing even more opulence to an already opulent luxury train.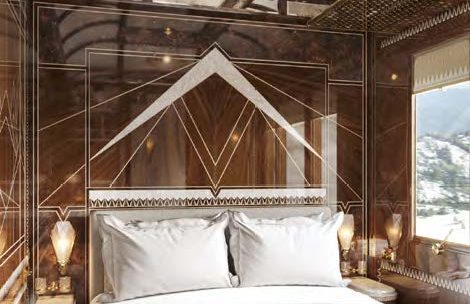 The two Suite cars each contains three suites with double beds and one suite with two twin beds, for a total of four suites per car. All have private marble shower, basin and toilet. Travelers in the eight new compartments also receive complimentary toiletries, slippers and kimono.
(If the Suites are half as opulent as the Grand Suites sampled by IRT's Eleanor and Owen Hardy last spring on the special Venice-Paris-Amsterdam trip, IRT travelers can prepare for an Art Deco immersion almost as grand.)
As with the lavish Grand Suites, the Suites' Art Deco décor looks almost as overwhelming with their opulent marquetry, fabrics and overall attention to detail.
The design choices pay homage to the countryside through which the VSOE runs, including Germany's Black Forest, Italy's Lake Como, the Arlberg massif, and the glittering Cote d'Azur, the Mediterranean French Riviera.
What's more, Belmond says, the Suites' new daytime configuration "invites you to unwind in style." Beds will be converted to a leisurely banquet seating arrangement during the day.
Meanwhile, for those wanting the total "Agatha Christie experience" – and a significantly less expensive fare – the VSOE's "Historic Twin" cabins remain. These have bunkbeds by night, converting to banquet seating by day, and include a window and washbasin. Bathroom facilities are down the hall.
Eight Suites are now available to book on journeys beginning June 2023 and later.
Call or email us now to get the best price and choice of dates. If you have a milestone celebration coming up, or if you have always wanted to experience the VSOE, call us to book your Grand Suite, Suite, or Historic Twin.
Email us at tourdesk@irtsociety.com, or call us at (800) 478-4881, or +1 (502) 897-1725 if outside the US/Canada.